Apex Legends™: The Board Game
Apex Legends™: The Board Game Loba Expansion




Time to dig up some gold! This Kickstarter exclusive expansion introduces the Loba Legend into Apex Legends™: The Board Game, and contains all of her necessary components, including the miniatures for the Legend and her power, cards, a card holder diorama and storage tray. Also included are highly detailed plastic miniatures for the Control Point and Heat Shields game variants, as well as an exclusive Nessie Special Feature with a dedicated Nessie miniature.
Final product pending licensor approval—may differ in appearance and component configuration.
Overview
game time

90+ min
number of players

2-6
This expansion offers a wealth of new content for Apex Legends™: The Board Game, most importantly adding the notorious loot scout Loba into the game's Legend roster. Loba uses her Burglar's Best Friend bracelet to escape from perilous situations and makes sure her squad has access to the best equipment available by deploying her Black Market Boutique directly onto the battlefield.
The expansion grants access to the optional Nessie Special Feature for use in all game modes, introducing the loveable character of Nessie into Apex Legends™: The Board Game as an interactive component, and spicing up each session through the use of Nessie Feat cards, which grant the players access to powerful and subversive gameplay effects, encouraging them to diverge from their usual strategies.
Also included are plastic miniatures for the Control Beacon and Heat Shields game modes, which replace the cardboard ones found in the Core Box.
Requires the Core Box for Apex Legends™: The Board Game.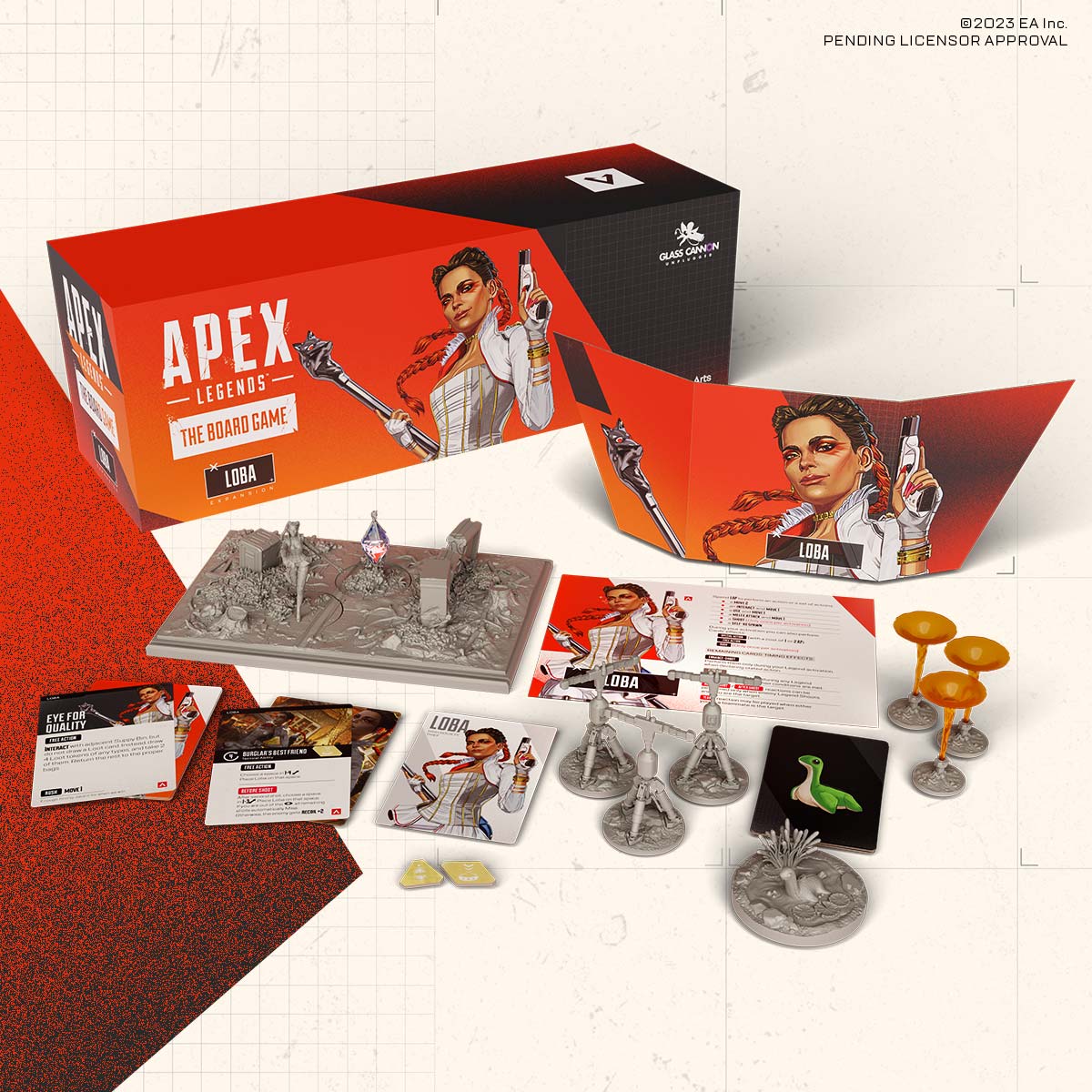 1 Legend miniature (40 mm in scale): Loba

1 Legend card holder diorama

1 Legend Effect miniature: Black Market Boutique

8 Feat Cards

2 Ability Cards

Legend Card

Ability Counter, Cooldown Counter

Legend Info Sheet

1 Nessie miniature

8 Nessie Cards

3 Control Beacon miniatures

3 Heat Shield miniatures

Custom Storage Trays
You may also like
Last viewed products