Apex Legends™: The Board Game
Apex Legends™: The Board Game Core Box




Become the stuff of Legends! The Core Box provides the essential Apex Legends™: The Board Game experience for 2-6 players with all versus gameplay variants for 6 Legends: Bangalore, Bloodhound, Gibraltar, Lifeline, Pathfinder, and Wraith. For more Legends and a diversified playing board, as well as a card holder diorama that will add immeasurable visual flair to your setup, make sure to check out the Squad, Board, and Diorama expansions.
Final product pending licensor approval—may differ in appearance and component configuration.
Overview
game time

90+ min
number of players

2-6
Apex Legends™: The Board Game is a highly competitive, intensely tactical team vs team miniatures game. The original game engine and innovative framework authentically captures the voice and imagination of Apex Legends™, bringing the stakes, thrills, and unforgettable kills of the battle royale experience to life.
The Core Box includes everything that players need to land in the heart of the battle, without having to assemble miniatures. It even includes collapsible 3D terrain designed by Acid Terrain Studio that is easily set up for use on the map and can later be put back into the box without any hassle.
Designed for all skill levels, the game offers fast setup, but involves deep strategy. Players take on the roles of unique Legends, each with a specific playstyle and special abilities. While easy to play, the game's real challenge lies in mastering your Legend. Each weapon available is highly customizable, and the game offers flexible Maps, Game Modes, and Special Features for tons of endless fun.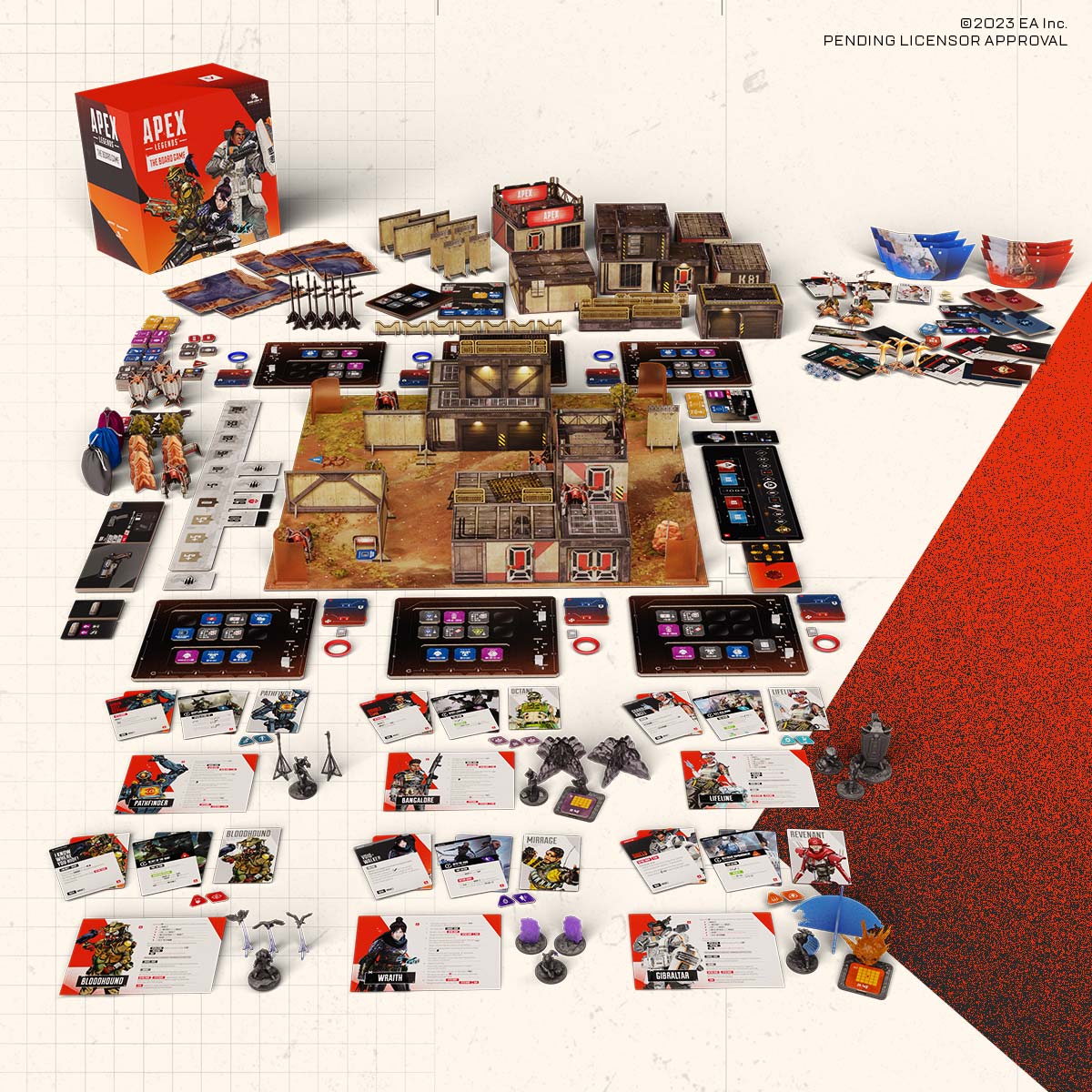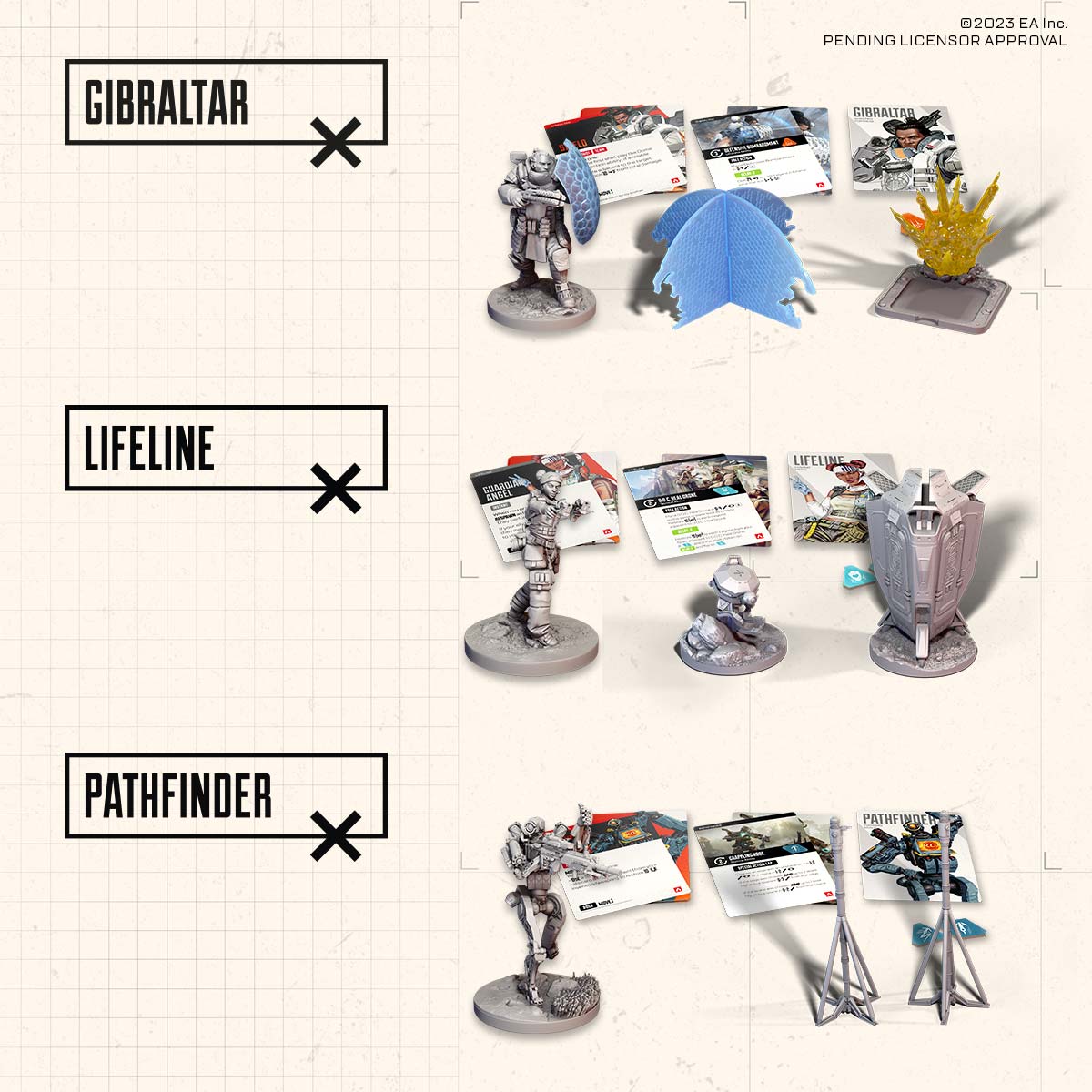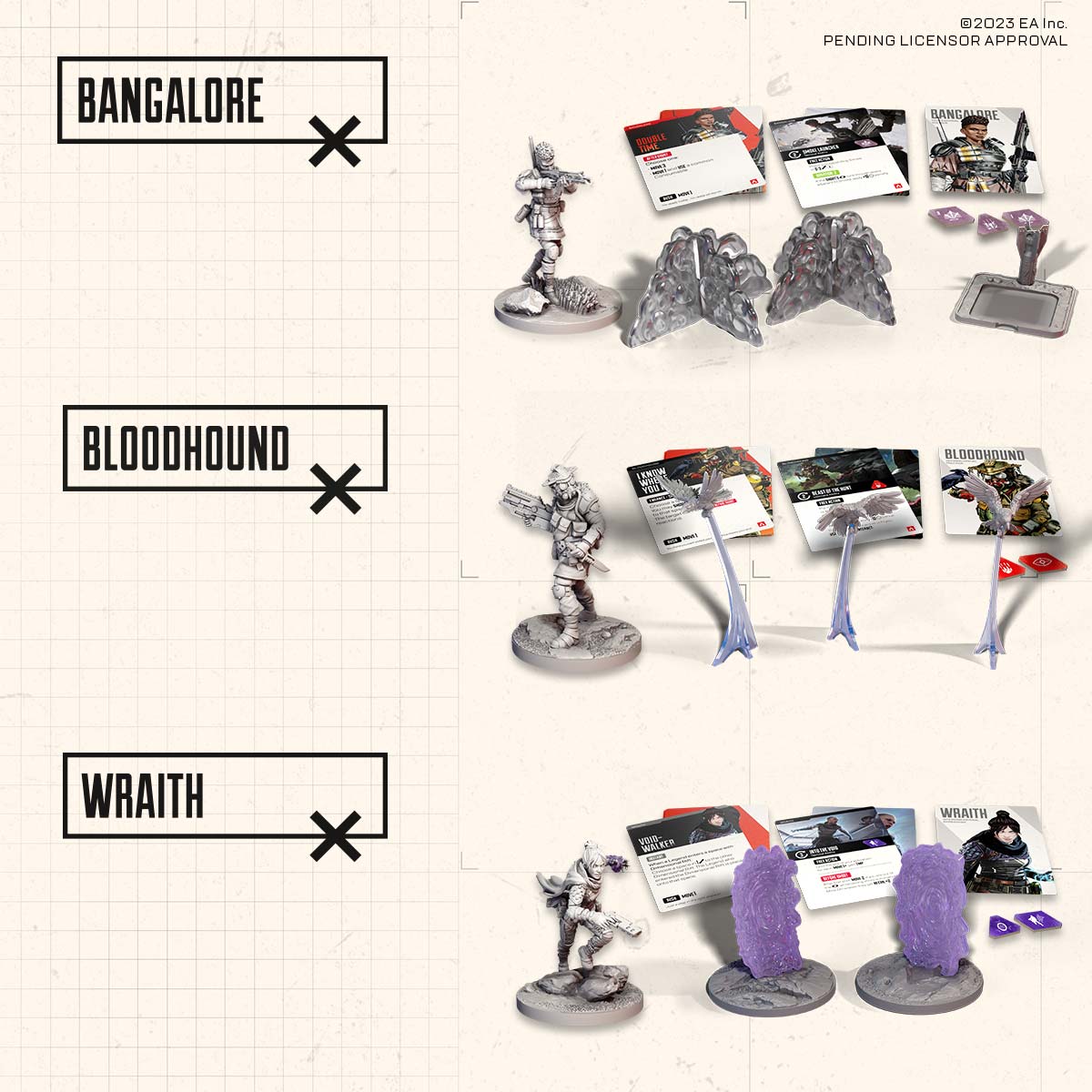 6 Legend miniatures (40 mm in scale): Bangalore, Bloodhound, Gibraltar, Wraith, Lifeline, Pathfinder

15 Legend effect miniatures: Smoke Launcher I & II, Rolling Thunder, Eye of the Allfather I, II & III, Beast of the Hunt, Defensive Bombardment, Gun Shield, Dimensional Rift I & II, Healing Drone, Care Package, Zipline Gun I & II

4 Barrier miniatures

4 Board Tiles

9 Canyon Tiles

15 Buildings

55+ 3D Board Tiles

9 Game Boards

193 cards

8 Team Deathmatch Mode Loadouts

200+ game counters

3 Bags for Loot Tokens

6 Shields / HitPoints dials

6 Blue & Red rings for miniature bases

12 Ammo cubes

6 Legend Info Sheets

Core Rules

Match Settings (Scenario book)

Custom Storage Trays
You may also like
Last viewed products