Frostpunk: The Board Game [EN]





Build and govern the last city on Earth! The Core Box provides the essential Frostpunk: The Board Game experience. For enhanced immersion, and extra visual flair, make sure to check out the many available expansions for the game.
Overview
genre
strategy-survival-city-builder
number of players

1-4
game time

120 min
Frostpunk: The Board Game puts players in the shoes of the leaders of a small colony of survivors in a post-apocalyptic world thrown off kilter by a severe ice age. Together, they must effectively manage the infrastructure of the realm and the lives of its citizens. Though easy to learn, the core gameplay is brutal, challenging, complex, and immensely immersive. The citizens of "the last city on Earth" are not simply mute pieces shoved up and down the board—the mechanics allow them to function as full-fledged society members who issue demands and react accordingly to the circumstances. That said, their fate is entirely in the hands of the players, with every decision and action having its own, unique consequences.
Will you treat their subjects like yet another resource? Or will you become an inspiring builder, fearless explorer, or brilliant scientist? Will your rule prove to be an intolerable tyranny or will you bring about an era of law and equality?
Frostpunk: The Board Game was designed by Adam Kwapiński (Nemesis, Lords of Hellas) with narrative direction by Jakub Wiśniewski (This War of Mine: The Board Game), and is based on the bestseller video game by 11 bit studios.
Awards and nominations:
Winner of UK Games Expo Peoples Choice Awards in Best Strategic Game of 2023
The Dice Tower Seal of Excellence
Board Game Revolution Meeple's Choice—Best Solo Game of 2022
Board Game Revolution Meeple's Choice—Best Production of 2022
The 16th Annual Dice Tower Awards—Best Solo Game Nominee
Golden Geek—Cooperative Game / Solo Game / Thematic Game—2022 Nominee
Board Game Quest Awards—Best Production Values 2022 Nominee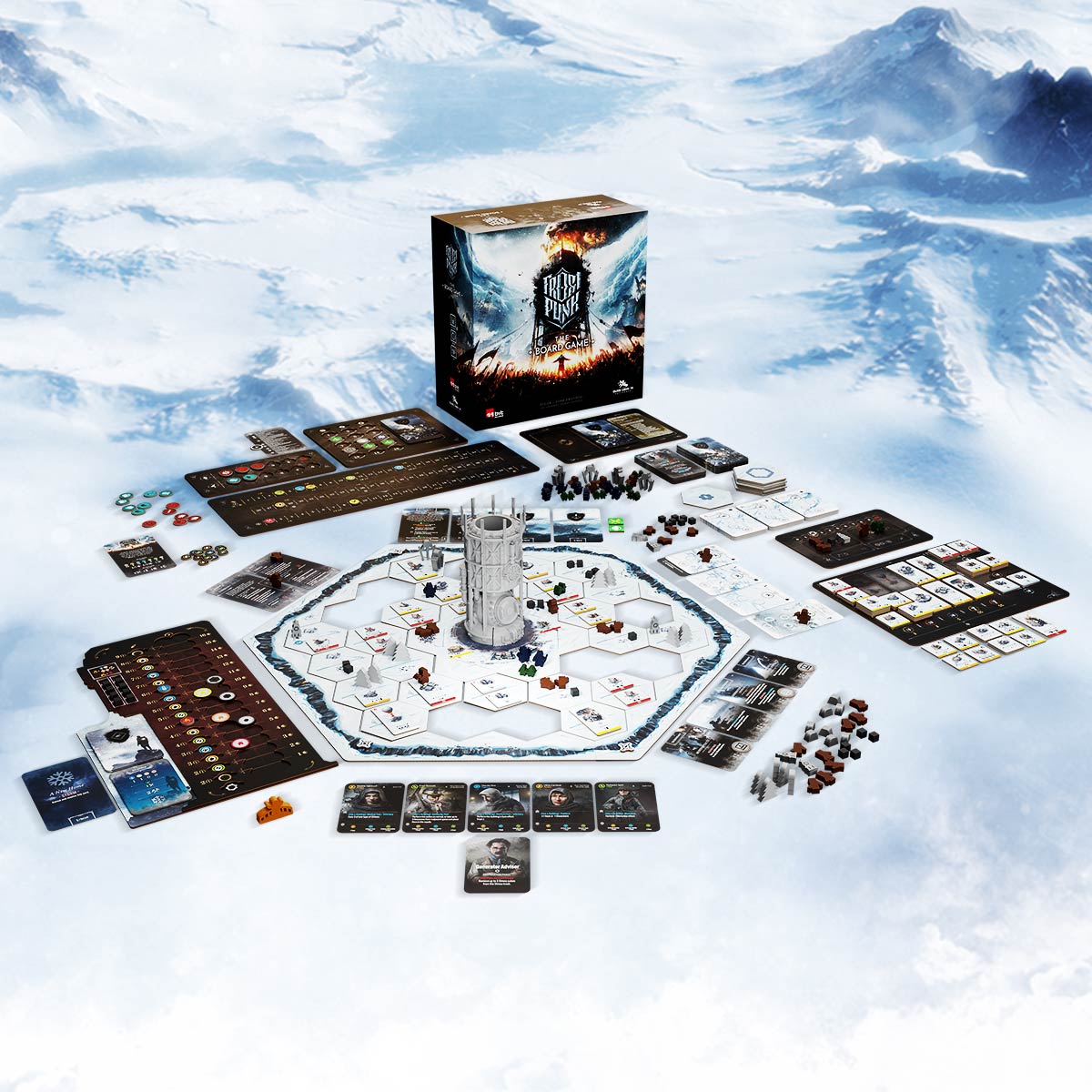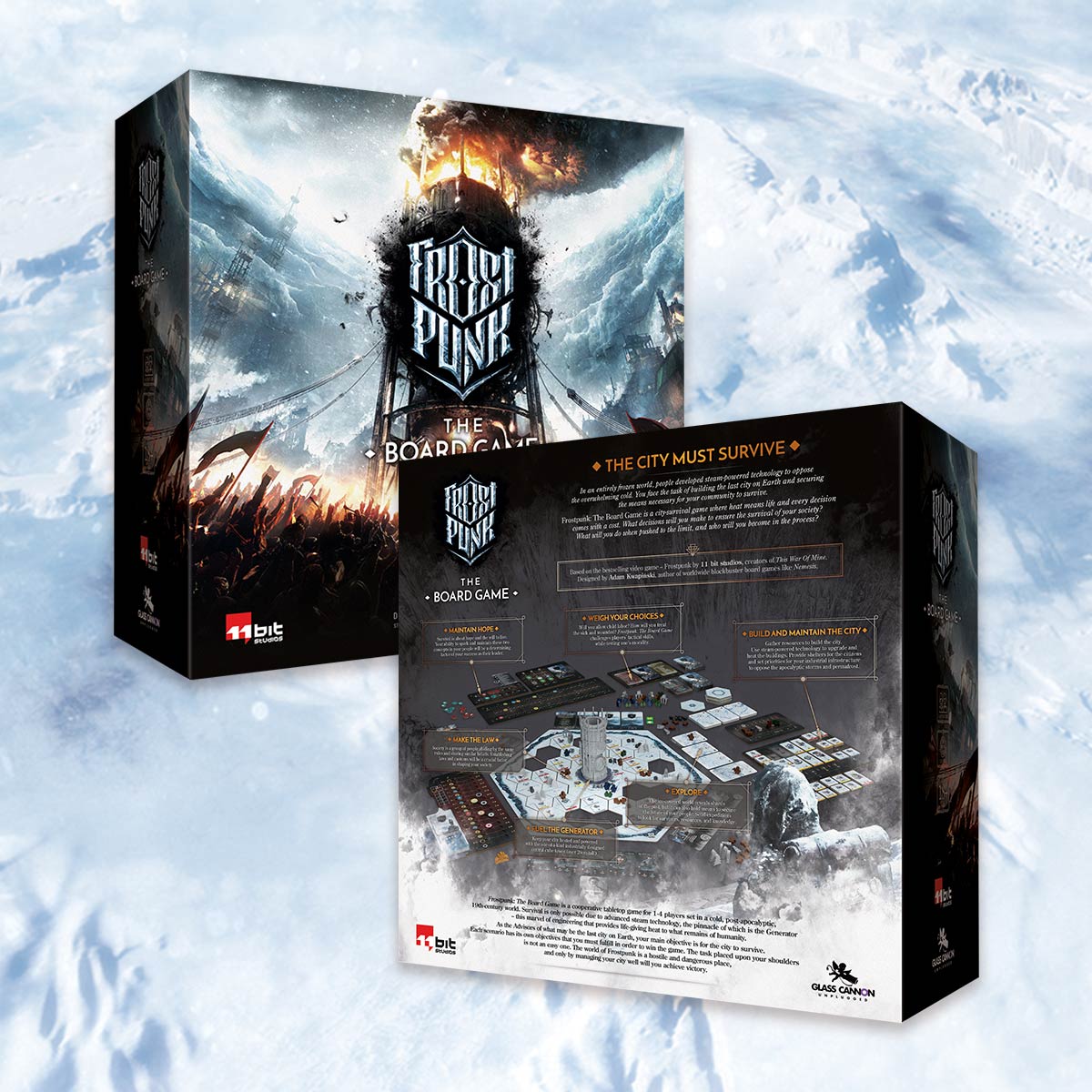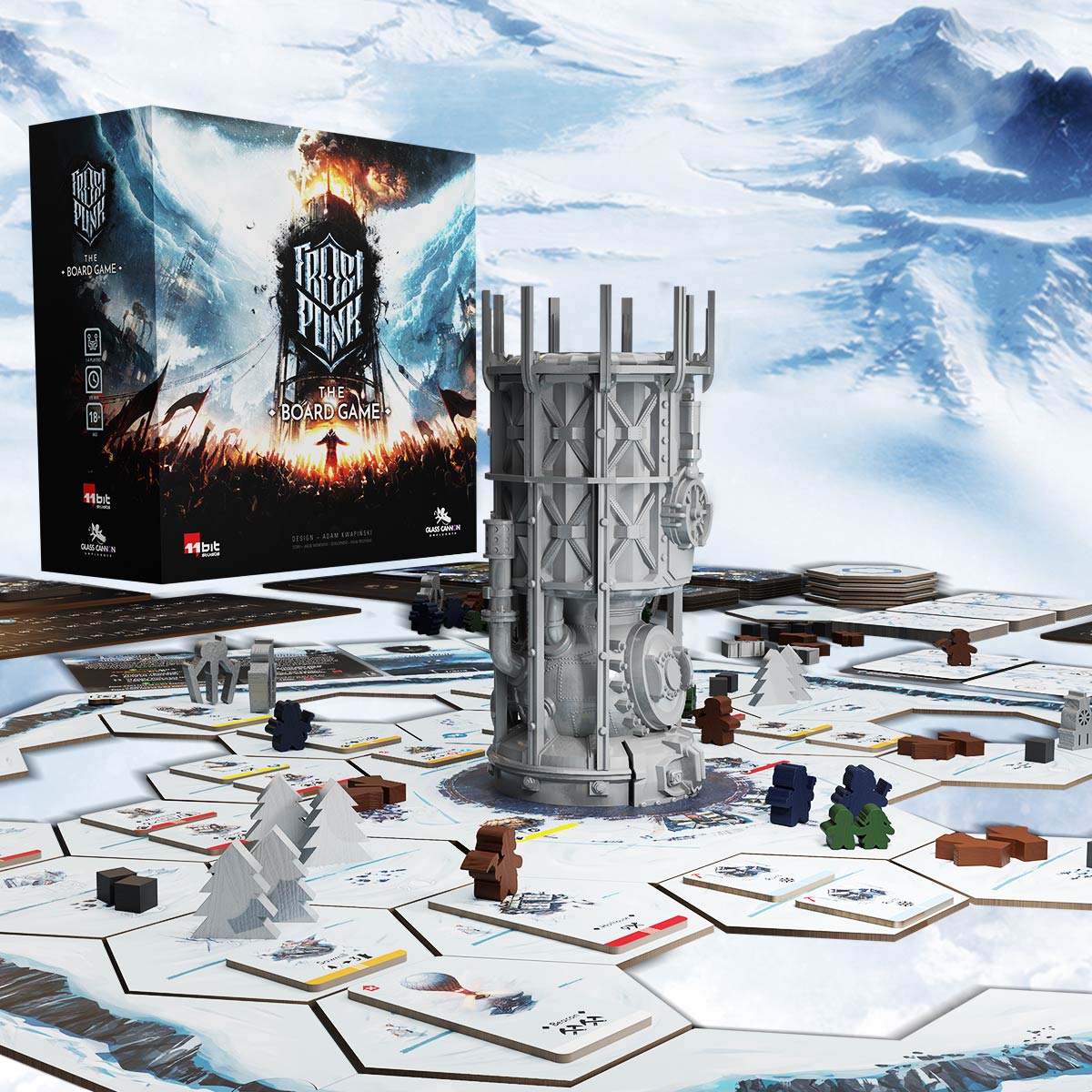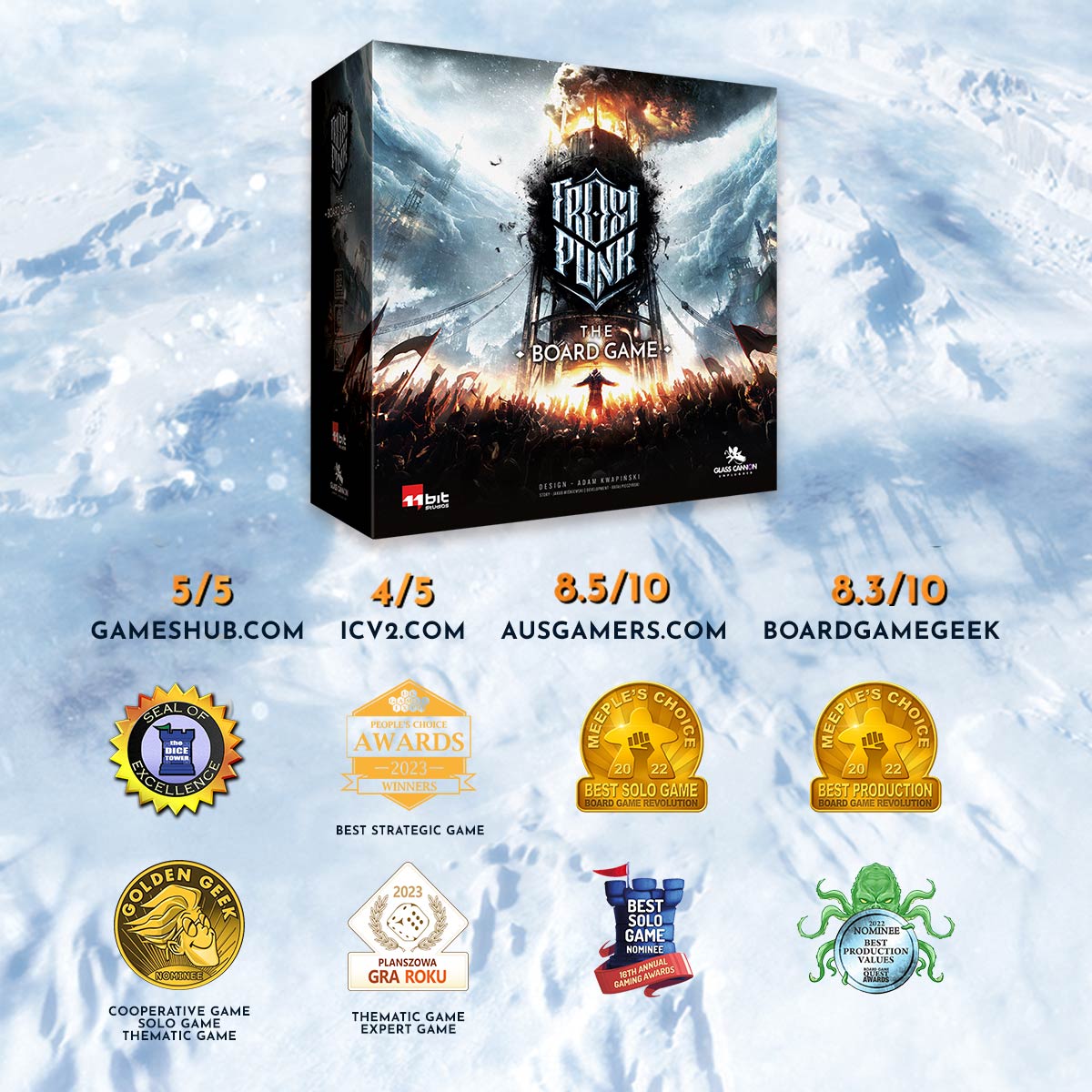 over 22 cm Tall Plastic Generator Cube Tower

Generator Cube Tower Drawer

Generator Cube Tower upgrade

12 Rim board pieces

Generator tile

30 Board tiles (12 Near, 18 Far)

5 Crags tiles

6 New Board Rim Tiles

Generator Board

Round & Morning board

Hope & Discontent Board

Population Board

Dusk Board

Supply Board

Buildings Board

Hope & Discontent Board

210 Large Cards (tarot size 70×120 mm)

135 Event Cards: (1 Starting, 60 Normal, 10 Social Dispute, 32 Law Consequence, 32 Morning)

16 Law Cards

44 Scenario Cards

12 Society Cards

1 Call to Rise Card

1 Phase Tracker Card

1 Outpost Card

108 Medium Cards (poker size 63×88 mm, linen finish)

40 Expedition Cards

13 Weather Cards

9 Technology Cards

4 Advisor Cards

30 Citizens Cards

12 Outpost Expedition Cards

178 Markers (custom-shaped, colored wood)

30 Citizen Meeples (10 Workers, 10 Engineers, 8 Children, 2 Children in Special Colors)

6 Automaton Meeples

40 Wood

50 Coal

8 Steel

10 Steam Cores

30 Trees

3 Steam Hub Pieces

1 Leadership Marker

178 Markers (custom-shaped, colored wood)

182 Tokens, Tiles & Markers (die-cut, 2 mm thick, linen finish)

19 Large Building Tiles

74 Small Building Tiles

7 Starting Wall Tiles

3 Heat Range Indicators

15 Spent Citizen Tokens

9 Hope Tokens

9 Discontent Tokens

1 Heat Marker

1 Round Marker

1 Phase Marker

1 Storm Marker

1 Food Marker

1 Hunger Marker

7 Scenario Trigger Tokens

3 Citizen Markers (Worker, Engineer, Child)

3 Sickness Markers (Worker, Engineer, Child)

3 Feed Citizen Type Markers (Worker, Engineer, Child)

3 Stockpile Markers

4 Electrostatic Discharge Point tokens

4 Development Tokens

1 Evacuation Marker

5 Knowledge/Discovery Tokens

1 Seedlings Marker

1 Generator Condition Marker

1 Study Marker

4 Generator Damage Tokens
1 Rulebook

1 Scenario book

4 Responsibility sheets

2 cloth bags
You may also like
Last viewed products